Rev. Nathalie Nelson Parker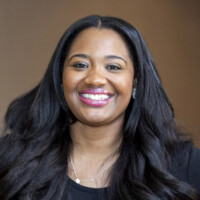 Nathalie Nelson Parker is a nationally renowned speaker and educator who inspires young leaders and organizations to lead, innovate and transform. Nathalie is passionate about holistic leadership that inspires both people's heart and mind.
Nathalie's career includes developing new national initiatives for the United Methodist Church, raising multiple six-figures in grants and scholarships, as well as improving student performance in both public and private school sectors in the states of New York and Georgia.
After more than a decade of working in secondary education and within non-profit sectors solving performance problems for schools and organizations, today Nathalie travels the world solving the problems of students, educators, organizations and colleges by delivering speeches, creating courses, and writing books.  She is the author of "I Love My Future HBCU: Teaching Children About Historically Black Colleges and Universities" and "Transformation Starts with Me: Bold Strategies for Innovative Leadership."
Nathalie has Bachelor of Science degrees in Political Science and English Literature from Adelphi University (Garden City, NY), a Master of Arts degree in Secondary English Education from Columbia University's Teachers College (New York, NY), and a Master of Divinity degree from Gammon Theological Seminary (Atlanta, GA).  She is an ordained minister with the North Georgia Conference of the United Methodist Church.
To see Nathalie in action, watch her videos, or hear of her success stories visit www.NathalieNelsonParker.com or contact her at info@nathalienelsonparker.com.