Discovering Your Unique Calling and Ministry
with Rev. Nathalie Nelson Parker
What you'll learn in this video resource:
Helpful frameworks to think about your calling and identify how you are meant to be living that calling out in the world.
Defining what "calling" is
Defining what "ministry" is
Link to free spiritual gifts inventories
Also included!
Calling and Ministry personal reflection worksheet with the exercises from each video
Printable bio sheet about Nathalie
Rev. Nathalie Nelson Parker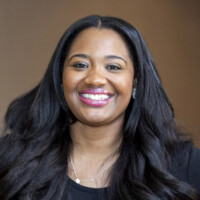 As a certified educator, renowned public speaker, author, and minister; Nathalie Nelson Parker has the reputation of blazing new trails. By combining her passion for helping others with her entrepreneurial spirit, Nathalie has helped hundreds of young leaders, organizations, churches and historically black colleges and universities (HBCUs) in developing transformational leaders and innovative programming. Nathalie has a unique way of reaching people who are seeking to identify their God-given purpose, maximize their lives, and transform the world.
Born in Queens, New York, to two loving parents who migrated from Jamaica, Nathalie is no stranger to hard work and dedication. She began her journey graduating with honors from Adelphi University and Columbia University. After leaving a 6-figure job to answer the call to full-time ministry, people thought she was crazy! But within three years Nathalie and her husband Leon F. Parker, III were able to start a consulting business, begin national initiatives, and raised multiple 6-figure grants to help leaders develop and empower their communities.
As an inspirational and motivational speaker, Nathalie's focus is leadership development, innovative programming, diversity and inclusion, as well as culturally responsive education. She uses the LIT principles – Lead. Innovate. Transform. – to help others discover their purpose and design innovative approaches to lead and transform their lives and communities with proven strategies. In 2016, Nathalie launched the National Network of Young Adults (NNYA) an initiative that focuses on empowering young adults (ages 18-35) to discover their purpose and become transformational leaders.
Nathalie is the author of the children's picture book I Love My Future HBCU and the resource guide Transformation Starts with Me. She has been recognized by the White House Initiative on Historically Black Colleges and Universities as an HBCU All-Star, is a member of the Theta Phi international scholastic honor society, and is an ordained Elder with the North Georgia Conference of the United Methodist Church and holds leadership and advisory roles for various boards and non-profit organizations.
Of all of her accomplishments Nathalie is most proud of the life she and her husband, Leon, have built together. They are pastors, entrepreneurs, community activists and the loving parents of Leon F. Parker, IV.
To see Nathalie in action, watch her videos, or hear of her success stories visit www.NathalieNelsonParker.com or contact her at info@nathalienelsonparker.com.