Vocational Discernment Through the Power of Story
with author and speaker Romal Tune
What you'll learn in this video resource:
How to look at your own story to identify your purpose in life
How to ignore the "noise" in life to better focus on God's voice
How to handle fear when it approaches you
Exercises to help young people uncover their calling and purpose and listen for God's voice
Also included!
Group discussion questions for each video
Sheet of main takeaways and the journal prompts from each video
Printable bio sheet about Romal
Rev. Romal Tune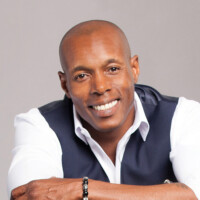 Romal Tune's life's work is using the power of storytelling to bring about meaningful change.  He cultivates purpose and passion that equips people to heal the wounds of their past, bravely offering his own journey as a case study of raw transparency and refreshing honesty. As a full-time speaker and author, he guides audiences through the process of identifying and embracing their unique stories in order thrive.
"I help hurting people find healing" has become the six-word mission statement that defines Romal's life and his platform. After growing up as an inner-city kid from the California Bay area with an absent father and a drug-addicted mother, Romal learned the "art of the hustle" at an early age but eventually worked his way to earning a Masters degree in Divinity from Duke University.  His commitment to living an authentic life allows him to share his journey of faith-in-God-plus-therapy as the combination that led him to wholeness.
As an author and speaker, Romal has become a global leader who guides individuals, organizations and institutions to recover from setbacks and achieve success by honoring their unique stories. With an infectious style that has impacted audiences around the world, Romal moves people to action! Through compassion, and systemic change, he creates and environment that will empower you in your life's journey.
As a social entrepreneur, Romal created ClereStory Education (CSE), a nonprofit that teaches communities about the importance of mental health and overcoming life-limiting beliefs through workshops, on-line courses, and coaching. CSE helps people create empowering narratives about who they can become in the world and develop an action plan to make it happen.
Romal is the author of two international bestselling books: Love Is an Inside Job: Getting Vulnerable with God and God's Graffiti: Inspiring Stories for Teens.  Romal's most recent book, I Wish My Dad: The Power of Vulnerable Conversations between Fathers and Sons, is scheduled for release in October, 2022.  He is the father of Aman Tune, a recent graduate of Hampton University and member of Delta Sigma Theta Sorority, and Jordan Tune – a recent graduate of Morehouse College.